Beef Tenderloins with Peppercorn Sauce and Crispy Shallots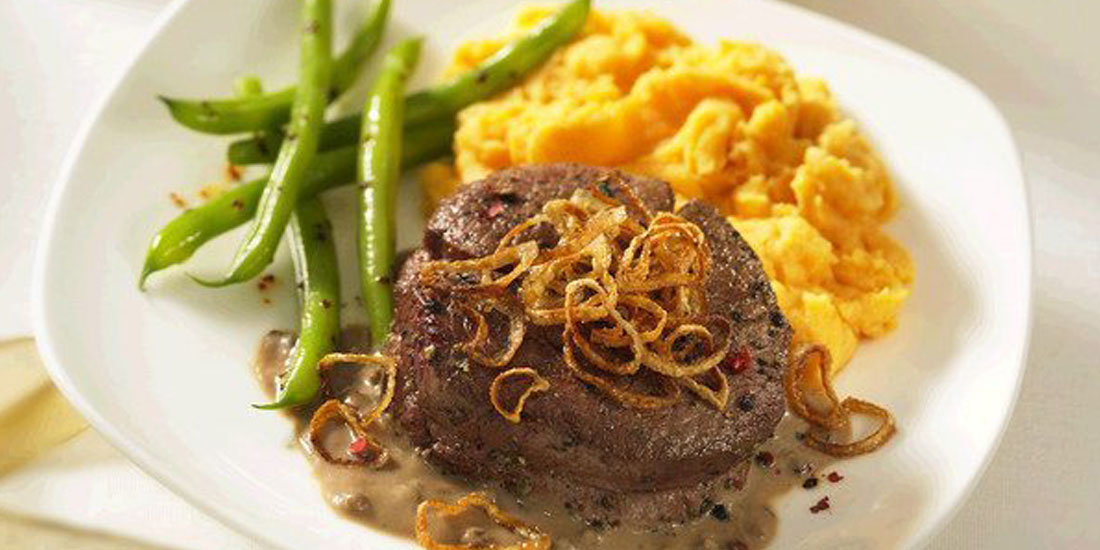 Make our crispy shallots for the ultimate beef bling! Use them to dress up burgers and grilled steaks, or use as garnish for soups or salads too. To save prep time, make them ahead and refrigerate in airtight container for up to one week.
Serves 8
Prep Time 25 minutes
Cook Time 20 minutes
Recipe Courtesy of Canada Beef
Ingredients
½ cup (125 mL) vegetable oil
8 shallots, peeled, halved lengthwise and thinly sliced (about 1-1/4 cups/300 mL sliced)
1 tbsp (15 mL) butter
4 Beef Tenderloin Grilling Steaks, 1-inch (2.5 cm) thick (about 2 lb/1 kg)
½ cup (125 mL) brandy or red wine
1 ½ cups (375 mL) beef broth
2 tsp (10 mL) Dijon mustard
1 tsp (5 mL) multicoloured peppercorns, crushed
⅓ cup (75 mL) whipping cream
salt
Directions
Heat oil in heavy skillet over medium-high heat. Add half of the shallots and cook, stirring constantly, until just golden, about 6 to 7 minutes. Remove using slotted spoon to paper-towel lined plate. Repeat with remaining shallots. Discard all but 2 tbsp (30 mL) of the pan oil. Make ahead: store refrigerated for up to one week in air tight container.
Add butter to pan and melt. Season beef with some of the peppercorns; add to pan and cook over medium-high heat for 12-14 minutes, turning at least twice, for medium-rare doneness 145°F(63°C). Remove from pan; cover and keep warm.
Add brandy; cook until almost evaporated, about 4 minutes. Stir in broth, Dijon and remaining peppercorns; bring to boil, scraping up any browned bits from pan. Add cream and stir frequently, cooking until thickened and reduced to about 1 cup (250 mL), about 10 minutes. Season with salt to taste. Remove from heat and pool some of the sauce onto each of four dinner plates. Top each with beef tenderloin, followed by a mound of crispy shallots.
Difficulty: Intermediate
Occasion: Everyday, Entertaining