Key Lime BBQ Beef Roast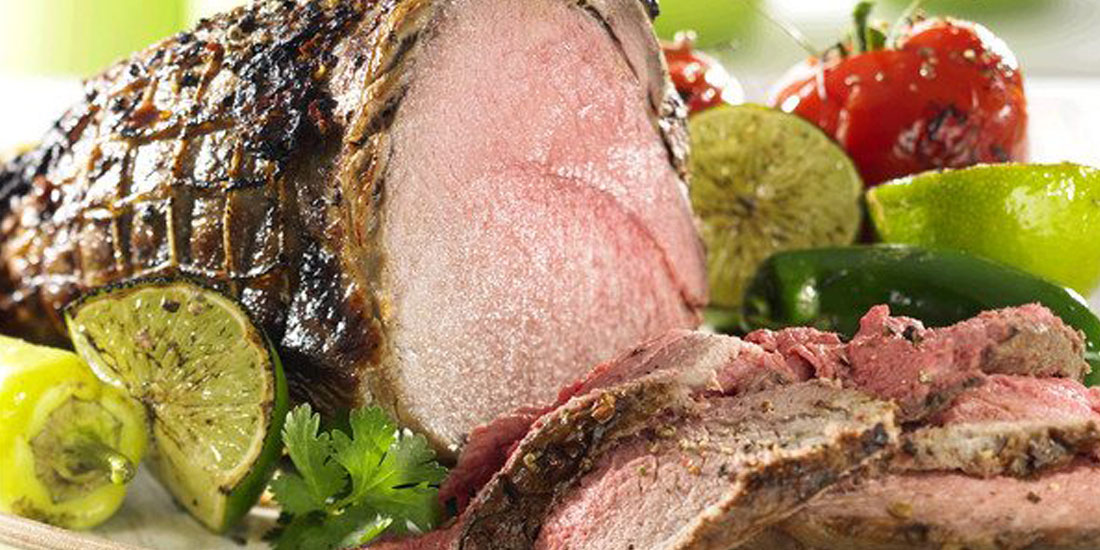 Try this marinade recipe for an incredibly flavourful and beautifully browned roast beef.
Serves 8-10
Prep Time 5 minutes
Cook Time 1 hour 30 minutes
Recipe Courtesy of Canada Beef
Ingredients
3 lb (1.5 kg) Sirloin Tip, Rump, Inside Round, Eye of Round or Outside Round Oven Roast or Rotisserie Roast
2 tbsp (30 mL) soy sauce
2 tbsp (30 mL) liquid honey
½ tsp (2 mL) hot pepper sauce
¼ cup (50 mL) lime juice
1 tsp (5 mL) ground cumin
2 tbsp (30 mL) oyster sauce (optional)
Directions
Pierce roast all over with fork. Combine soy sauce, honey, pepper sauce, lime juice, cumin and oyster sauce (if using) in large sealable freezer bag. Place roast in bag with marinade; refrigerate for 12 to 24 hours. Discard used marinade.
Place drip pan containing 1/2 inch (1 cm) water under grill. Preheat barbecue to medium-high (400°F/200°C).
Insert meat thermometer into middle of roast. Place roast on grill over drip pan that is moved to one side; turn heat off under just the roast. Cook at constant heat, in closed barbecue, until thermometer reads 155°F (68°C) for medium, about 1 hour and 30 minutes.
Remove roast to cutting board; cover with foil for 10 to 15 minutes. Carve across the grain into thin slices.
Cook's Notes: Cooking time is a guideline only and varies with barbecues, roast shape and type. Roasts may be done up to 30 minutes sooner or later than estimated time. For an estimated cooking time chart, refer to the barbecue roasting cooking lesson.
Tip: PREMIUM OVEN ROASTS (i.e. Sirloin, Rib or Tenderloin) can also be barbecued as above, marinating for just 15 to 30 minutes.
Difficulty: Easy
Occasion: Backyard BBQ, Entertaining