Grilled Surf and Turf Salad with Cilantro Dressing
Grilled Surf and Turf Salad with Cilantro Dressing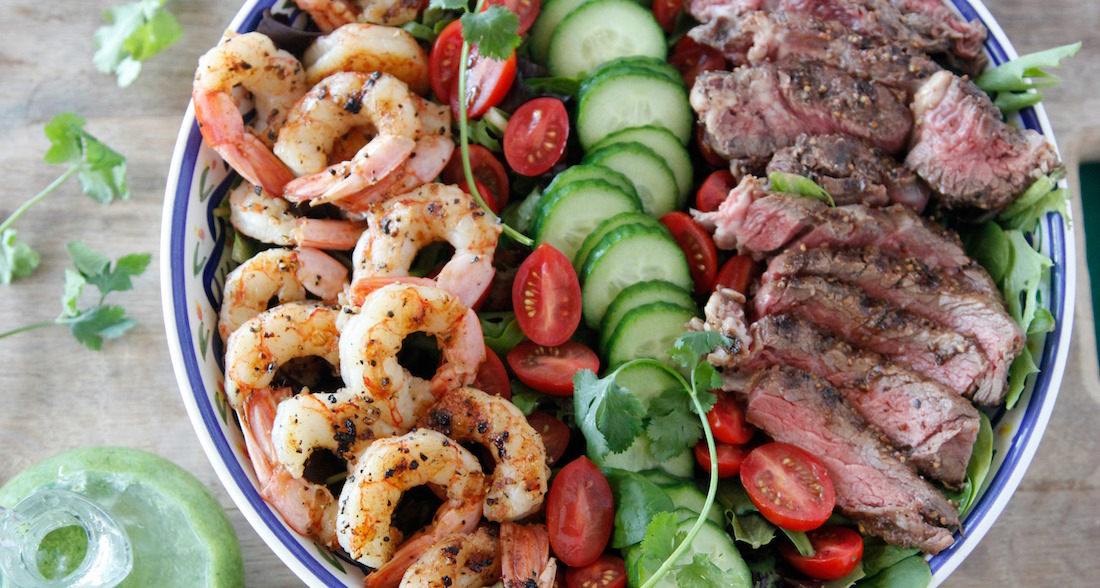 This fresh, colorful, grilled surf and turf salad combines the best of land and sea: from the land, a juicy Angus beef steak; from the sea, tender shrimp. We grill them both to perfection and serve on a bed of greens and veggies. To top it all, we finish with a tangy cilantro dressing. Doesn't that sound fantastic? In Mexico, we call this a "Mar y Tierra" dish.
Serves 4
Prep Time 10 minutes
Cook Time 45 minutes
Recipe Courtesy of mamalatinatips.com
Ingredients
For the Salad
1 lb Diamond Reef® Wild Caught Red Shrimp peeled & deveined, tail on (approx 12-13 shrimp)
1 lb High River Angus® Rib Eye or New York Steak
2 teaspoons sea salt divided
4 teaspoons black pepper coarsely ground
1/2 teaspoon paprika
8 cups greens washed and drained
1 Persian cucumber in thin slices
20 cherry tomatoes washed and halved
Avocado optional
For the Cilantro Dressing
25 fresh cilantro sprigs washed
1 garlic clove
2 tablespoons white wine vinegar
1/3 cup olive oil
1/2 teaspoon lemon rind
You will also need
Food processor or blender
Wooden carving board
Carving knife
Salad Bowl
Directions
Defrost shrimp leaving them in the fridge overnight, if you have time. Or under running water the day of. Drain and dry with a paper towel.
Remove extra fat on the steak.
Mix one teaspoon sea salt, black pepper and paprika. Season steak with 2/3 of the mix. Season shrimp with the 1/3 left.
Heat the grill. The cooking time varies according to the grill you use. This time I used a cast iron grill pan over medium-high heat on the stove.
Grill steak 5 minutes on one side, and about 8 minutes on the other side or until done to your taste. If you use another grill, adjust time according to your preference. Less time for medium rare or more for well.
Put on a plate and let it rest for 15-20 minutes.
Grill shrimp 4 minutes per side or until cooked. They will turn from translucent to a pinkish-white color.
In a food processor or blender, blend cilantro, garlic, vinegar, a teaspoon sea salt, oil and pepper to taste until smooth. Add the lemon rind, mix with a spoon, then set aside.
After patiently waiting for the rest period to pass, slice steak thinly.
Place greens in a salad bowl, add cherry tomatoes, cucumber and avocado (optional). Top with shrimp and steak. Pour on dressing to taste.
Difficulty: Intermediate
Occasion: Everyday