New York Steak Roast in Adobo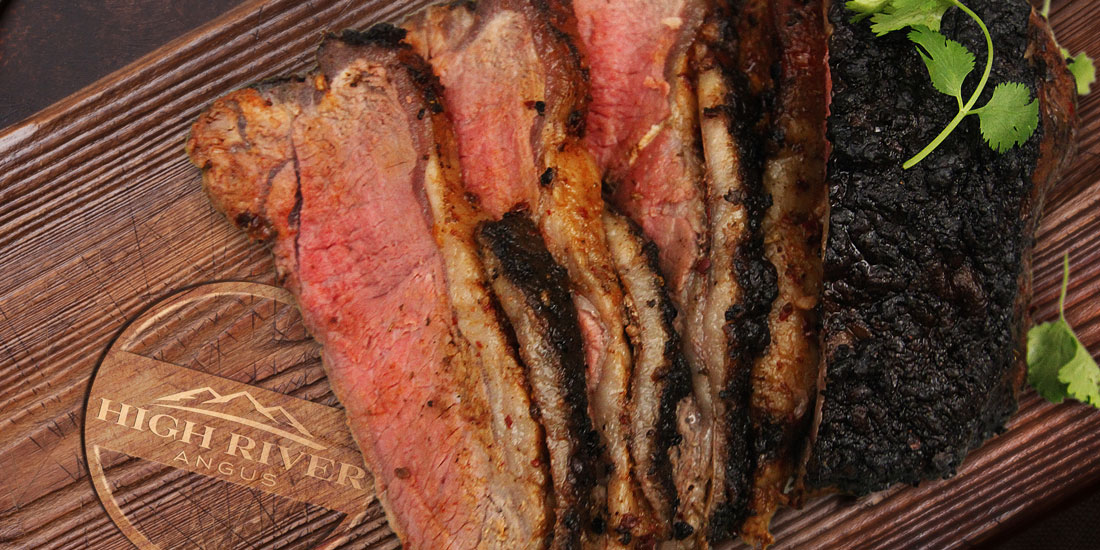 Beef roast is one of those easy to make dishes that will fill your kitchen with incredible aromas. This recipe starts with a tender and delicious High River Angus® Strip Loin Steak, also known as New York steak, enhanced with a good marinade or adobo.
This adobo recipe is a combination of different dry chilies (guajillo, ancho, paprika and chipotle) and is enough to cover the whole cut. If you want to make a gravy, we recommend you double the recipe and save one half to mix it with the juices after roasting.
Serves 10 (8-ounce) servings
Prep Time 10 Minutes
Cook Time 65-75 Minutes (Plus 20 Minute Rest Time)
Recipe Courtesy of MamaLatinaTips.com
Ingredients
5-lbs. New York Steak roast or High River Angus® Strip Loin Steak
4 garlic cloves, pealed
2 chilies guajillo, deveined
1 chili ancho, deveined
2 tsp. salt
1 tsp. black pepper
1 tsp. paprika
1 tsp. ground chili chipotle
1 tbsp. olive oil
1 tsp. dry oregano
½ cup apple vinegar
Directions
Pre-heat oven to 450˚F
In a food processor, mix the garlic, chilies guajillo and ancho, salt, pepper, paprika, chipotle, olive oil, oregano and apple vinegar, until you get a pasty consistency.
Rub the beef roast with this paste, or adobo until covered. Place it on a roasting pan, fat faced up. If you have an oven thermometer, place it in the middle of the cut.
Roast for 15 minutes. Lower temperature to 350˚F and continue roasting for 10-12 minutes per pound or until internal temperature reaches 125˚F. Take it out of the oven, cover with aluminum foil, and let it rest for 20 minutes.
Rest time is very important. This allows the meat to continue cooking to reach the Medium temperature (it will raise 10-15˚F) and retain the juices when you cut it.
Difficulty: Easy
Occasion: Entertaining, Holiday